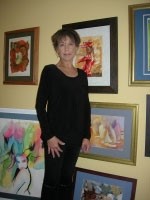 Artist's Statement
I began with Watercolors, tried Acrylics and Pastels, and finally, after a long period, found Watercolors were for me, easier to work with. Eventually, after a few years, I decided to try other media and am now using Acrylics, Colored-pencils, Alcohol Inks as well as Watercolors. I love a wide array of subject matter but love to paint portraits capturing the individual personalities I can often see hidden away. Painting gives me peace and is a daily part of my life.
Patty's Bio
Patty Robello was born in Mexico City and is of Mexican/Italian descent. She is a licensed California Pharmacy Technician, an Arthritis Foundation P.A.C.E Leader, is Certified to teach Thi-Chi and studied with Master Henry Chang. Patty is a member of the Activity Directors of Greater San Diego and a California State Certified Alzheimer's Memories in the Making Art Program Instructor.
Patty found a niche working as an Activity Director with seniors at Sunrise Assisted Living in La Costa for nineteen years. During that time, she managed all Art for Sunrise Assisted Living which included: teaching art to the Residents, framing and displaying on-site at La Costa, entering many pieces for the residents at the San Diego County Fair winning numerous ribbons, and participating in the annual Alzheimer's sponsored Live Art Auctions. For the past twenty-five years, Patty has been attending Art Classes at UCSD, Mira Costa College studying with Kathleen Fitzsimmons, Watts Atelier of the Arts in Encinitas, attending drawing classes taught by Stan Stevenson, Portrait Artists to Presidents, and many others.
Patty is a prolific artist having multiple projects under way at all times with an extensive diversity of subject matter focusing first on Watercolors, Drawing, Mixed Media, Alcohol Inks, Acrylics, and Collage. Patty is a member of SDAG (San Dieguito Art Guild) Off Track Gallery, COAL (Carlsbad Oceanside Art League), and The Oceanside Museum of Art. She has won Best of Show, numerous ribbons at all levels, and sold pieces.
Where to find Patty : Cell: (760) 707-6605 Email: [email protected]