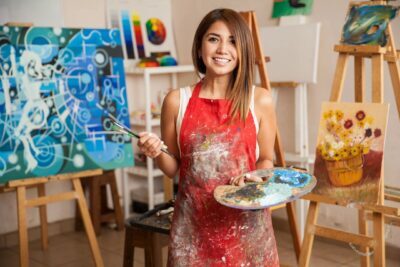 Join the Carlsbad-Oceanside Art League! Apply for membership today!
Carlsbad-Oceanside Art League is a member-based organization and it's owned and run by our artists. By becoming a member, not only you will gain access to our monthly shows at the North Coastal Art Gallery and all our annual programs, but a community of like-minded artists and invaluable experience with the art market. Review our activities information flyer.
Do you qualify?
To become a COAL member you need:
New Members must provide a social media or website resource for a juried review of their artwork, or send a separate email with two images, prior to completing the application to: [email protected], Subject: Interest in Membership.
Previous Members do not have to submit images for jurying prior to re-joining, and since your fees are delinquent after January 31st, you will be selecting the New Member, payment processor. and paying the fees as a New Member to rejoin.
To be 18+ years old
Review the Art Categories to make certain your artwork will be accepted
Complete and pay the annual membership dues. December 1 through January 31
Host the gallery (work at the front desk) for one 3-hour shift a month
Review and address your Volunteer interests
Membership types and fees
There are several types of membership you can apply for:
Renewal membership: $100, due Dec 1, and becomes delinquent on January 31. Afterward, you must re-apply as a New Member and pay as noted on the prorated sheet. *All benefits apply.
New membership: $100/year + $15 one-time enrollment fee. *All benefits apply.
Joint membership: $150/year (residing in the same household). *All benefits apply
Full-time artist-student (18-23 years old): $60/year *Limited benefits apply
Patron Membership: $100: Support the gallery as an artist or non-member.
Pro-rated fees apply to all members applying after January 31st yearly.
Membership Applications and Payment
Become an active member!
Every member of the Carlsbad-Oceanside Art League and North Coastal Art Gallery is requested to actively participate in helping our organization run smoothly for the benefit of all members, gallery visitors, and art collectors.
What is your strong suit? We are always seeking help in the areas of business, marketing, administration, IT, events, and others. Here's a shortlist of the volunteer opportunities: Sign up here
Website Assistant
Publicity team: Facebook, Instagram, Online activity
Newsletter team
Art Take-in team
Art Installation team
Youth Shows team
Hospitality team
Data entry and management
Membership Director & Assistant
Co – Gallery Director
Bookkeeper
Become a BOD Member