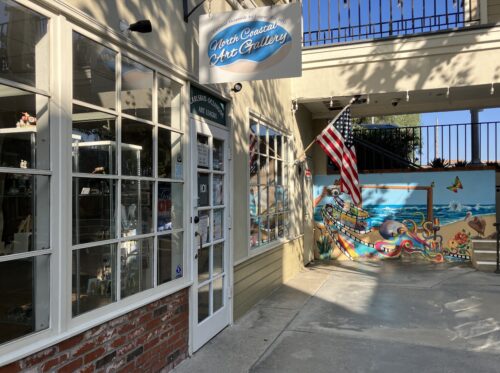 Carlsbad Oceanside Art League Mission
"We encourage artistic growth", and open the world of art to everyone irrespective of their level of artistic or creative experience, or background, and provide accessible platforms, resources, and opportunities for artists to create, exhibit, and share their work.
We are a volunteer-based Membership and appreciate their valuable time in support of the North Coastal Art Gallery.
History of North Coastal Art Gallery and Carlsbad-Oceanside Art League
The North Coastal Art Gallery is managed by the (COAL), Carlsbad-Oceanside Art League which is a 501 (c) 3 non-profit organization, formed in August 1951, by a group of 5 emerging and established artists who lived in the Carlsbad and Oceanside area. Their mission was to promote art education and cultural appreciation in the community, and whose primary purpose is to provide art enrichment to artists, and provide a place to display artwork.
2023-2024
Board of Directors
President: Cheryl Ehlers, [email protected]
Vice President: (Open)
Secretary: Carlos Primo
Treasurer: (Open), Interim, Gertrude Lewis, Co-Treasurer: Judy Richardson. Assistant Treasurer: (Open)
Director of Membership: Scott Bruckner Assistant: (Open) Interim, Cheryl Ehlers
Director of Gallery Operations: Gertrude Lewis, [email protected], Co-Gallery Manager: (Open)
Director of Art on the Green: Deb Capetz, [email protected]
Director of Programs: Susan Bell [email protected]
Director of Publicity: (Open)
We appreciate our dedicated volunteers and patrons alike who fill our existing vacancies. Interested in joining us? Signup (here).
Thank you to all the Supporting Committees
Monthly Show Chair: George Kanetakis, Assistant Chair (Open)
Art Installation: Phaya Gifford, Lois Atherton
Judges/Demonstrations: Nancy Atherton West, Lorraine Marie Cote, Videographer, Mark Watkins,
Hospitality: Jude Sayer [email protected]
Calendar: Ellen Cramer, [email protected]
Card and Shrink Wrap Coordinators: Cards: David Rickert, [email protected] Shrink wraps: George Garcia, [email protected]
Webmaster: Galina Marcus
Brushmark Newsletter: Cindy Fatica [email protected]
Baffle Coordinator: Charcee Colosia, [email protected]
Social Media: (OPEN)
Instagram: Melissa Nabulsi; Facebook, Dawn Tappen OPEN; Meta Business FB, Calendar Posting, Creative Writer, and more, visit the volunteer signup sheet on the website.