71st Fine Art Open Annual at the North Coastal Art Gallery
OPEN TO ALL ARTISTS
SHOW DETAILS
Review the Prospectus before applying. Print and keep for details.
Required art ID Tags for your Art entries, also in the application.
Contact for questions:
Susan Bell, Show Director
Cheryl Ehlers, Show Director
NCAG Gallery: 760-434-8497
Thank you to this year's Sponsor. LPC – La Peony Clothing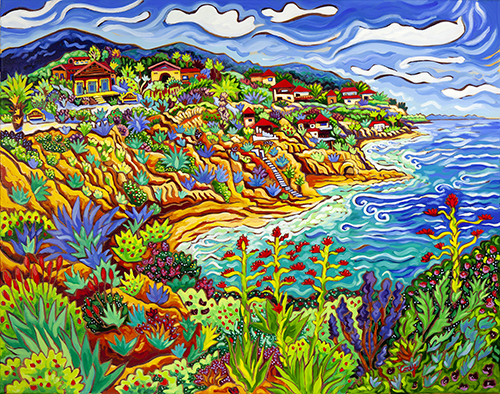 Judge: Cathy Carey
Cathy is best described as a Contemporary Expressive Colorist, whose favorite part about painting is using color as a powerful tool for communication and self-expression. She is committed to exploring the many ways in which it can be used to convey meaning and emotion in her work.
"In choosing what to paint or how to paint it, I want my pictures to be more than the reality of description, and I strive to fill viewers with a sense of joy. Inspired by Matisse, my goal is to paint what it feels like, not what it looks like. An interesting question I am often asked is, "where do your ideas come from?" To that, I respond, from everything around me and the world I live in. I paint the things I see and feel every day – even when it looks made up, it is based on reality. Art is communication. I feel it is my mission in life to bring joy to as many people as I can, through my art".
Originally from Virginia, attended the Corcoran School of Art, in Washington, D.C. She received a BFA in Painting and Printmaking from Virginia Commonwealth University and was awarded the National Dean's List all 4 years. She is a full-time professional artist, a sought-after Instructor, and a workshop leader by The Golden Door Retreat, Art Methods and Materials Show, Sennelier Products, Daler Rowney Products, and Santa Fe – Travel Workshops. She was a well-regarded Instructor of Color Theory at the Art Institute of California in San Diego.
Thank you to last year's 70th sponsorship for the 70th Fine Art Open Annual Show – The Surfing Madonna Oceans Project