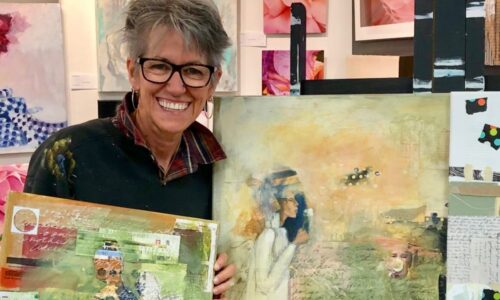 JANUARY 4 , 2024 brings a new lineup! Happy Holidays.
Join the power-packed program with a new lineup of Demo Instructors, and educational programs! Something everyone can enjoy! Denise Cerro, artist, mixed mediums artist will be providing insight on mixed media applications and production. sign up not to secure your seat.
Review all information for the Demos below.
Secure your seat for this Demo & Expression session
Demo & Expression: Monthly Live Demonstrations by Professional Artists
One Thursday a month, COAL hosts an off-site live demonstration with selected professional artists at an off-site live demonstration of their media and/or techniques. The demo events are FREE, and donations are accepted in support of the program. Program sponsored in part by the City of Carlsbad Cultural Arts Grant and the COAL. New shows arel returning on January 4, 2024.
Location: Pine Avenue Community Center, Carlsbad 329 Harding Street, Carlsbad CA 92008
Time: 1:30 PM – 3:30 PM
For more information on the facility, hours call (442) 339-5022
For more information on the program contact the gallery at 760-434-8497
For details contact the Demo Chair Scott Bruckner @ [email protected]
Seeking a Demo Assist for reception table the day of (3hrs shift) Contact Scott Bruckner.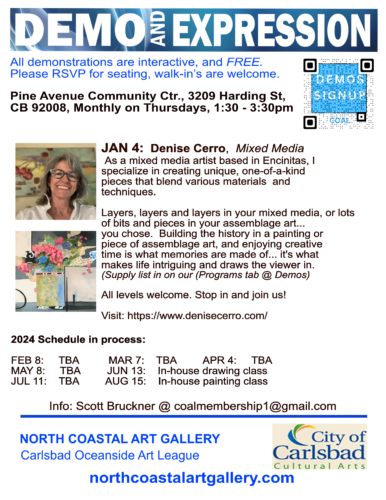 Demos will be turning beginning in January 4, 2024. See the Schedule below. More information on the programs is in process and TBA.
Official website: Denise Cerro,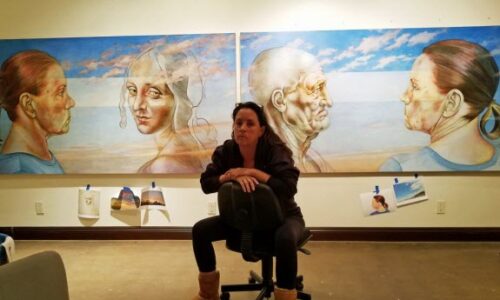 My paintings are mostly large works created with multiple thin layers of transparent oil paint. This process imitates the quality of human skin and gives a luminous presence. I name each series to hint at the unnoticed. People's faces are my subject, but I don't see them as portraits. Portraiture in painting takes on a connotation of external beauty and an enhanced likeness or status of the subject. I am not interested in these things. What I am interested in is conveying something genuine, something not so tangible on the surface, the psychology, the essence of being human, that quality that makes an individual sympathetic or vulnerable, even at the risk of being rebuffed. It seems we have little room for truth in our appearance. I'm hoping to find a connection with people who think similarly, those who find superficial things to be just that. a shell, a veneer. Visit Vicki at her website
2023 Live Artists Demo Schedule
November 2023: No Demo, Open Small Image Show – Happy Holidays!
December 2023 No Demo, Open Small Image Show – Happy Holidays!
January 4, 2024 – Denise Cerro, Mixed media
February 8 – TBA
March 7 – TBA
April 4 – TBA
May 9 – TBA
June 13: SPECIAL INFO/SIGNUP HERE: "Live Model Painting" with Charcee Colosia
July 11 – TBA
August 15: SPECIAL INFO/SIGNUP HERE: "Paint Along" with Lorraine Cote