Demo & Expression: Monthly Live Demonstrations by Professional Artists
One Thursday a month, COAL hosts an off-site live demonstration with selected professional artists at an off-site live demonstration of their media and/or techniques. The demo events are FREE, donations are accepted in support of the program, and are open to the public. Funded in part by the Carlsbad Cultural Arts Department Grant.
Location: Pine Avenue Community Center, Carlsbad 329 Harding Street, Carlsbad CA 92008
Time: 1:30 PM – 3:30 PM
For more information on the facility, hours call (442) 339-5022
For more information on the program contact the gallery at 760-434-8497
For details contact the Demo Sharis, Nancy Atherton West or Lorraine Marie Cote @ [email protected] The Materials List is here.
To secure your painting table please RSVP today.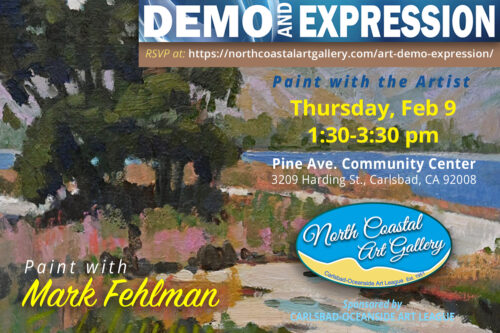 FEBRUARY 9: Mark Fehlman – The Secrets of Design – Oil (or bring any medium you prefer). Every great painting starts with ONE critical step. What is it? The ability (and patience) to create a rock-solid foundation of design. You could be a good painter — really good … but if you're not skilled in design, your paintings are doomed.
RSVP today to join us!
2023 Live Artists Demo Schedule