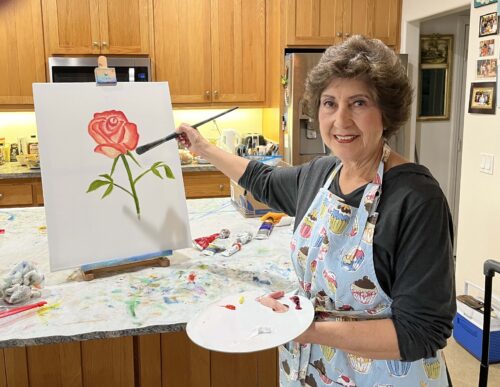 Artist's Bio
Vivi Anderson has been painting since junior high using a variety of mediums. Starting out with pastels, then moving on to acrylics, and most recently works in oils. She has studied with a number of instructors, most recently with Ron Di Cianni an internationally known artist.
She studied with Ron for four years doing mostly portraits because his philosophy is that "If you can paint faces, you can paint anything". She enjoys studying the ocean waves and has been traveling to northern California to capture the wild waves in the Big Sur area and Carmel's famous coast in Asilomar Beach.
You will see a variety of coastlines and beaches in her paintings. She also enjoys capturing the sunset colors at the beach with clouds reflecting the setting sun's rays. A website is in the process where you will be able to see works that include the San Francisco bay area and Sausalito bay views. Stay tuned.
Artwork by Vivi Anderson
Where to find Vivi Anderson online:
Official website: coming soon
Contact: [email protected]